Using the Paris Métropolitain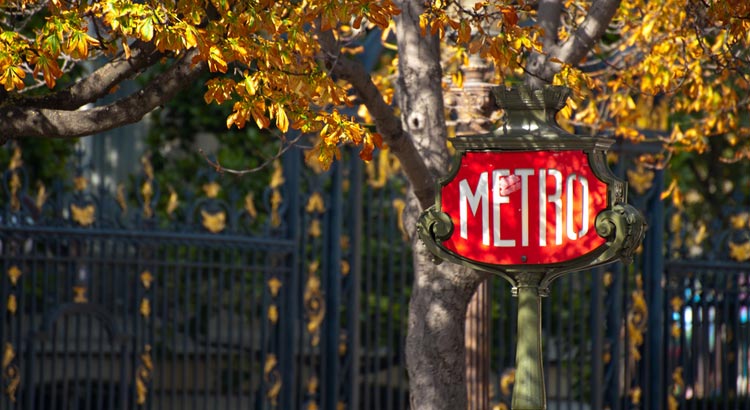 Paris Métro
With 300 stations connecting 16 lines in the Paris metro system, riding the metro in Paris can seem daunting. But it doesn't have to be. Know about the times, directions, tickets, and schedule right here. 
Tickets
One metro ticket -- t+ticket -- costs €1.80 and is valid for only one journey, including any connections in Zones 1 and 2. Tickets are available in metro stations at all ticket offices, machines and tobacco shops. Please note that you should not discard your ticket until you have finished your metro journey because ticket inspectors may randomly ask to see yours on the metro. Upon exiting the train, you will place your ticket into the turnstile to exit the metro station. 
Lines and Times
Metro trains typically arrive every two to four minutes during the day and every six to twelve minutes after 8:30 PM, taking around one minute to reach the next station. Operating hours are from Monday to Friday, 5:30 AM to 12:30 AM; Saturday to Sunday, 5:30 to 2:15 PM; Nights preceding holidays, 5:30 AM to 2:15 PM. It is best to avoid traveling during rush hours because of overcrowding, so try to veer from Lines 1, 4, and 13 at these busy times. 
Be sure to remember that RER trains are not metro trains since you need to have the appropriate ticket with you at all times. You must purchase the correct ticket for the corresponding zone, especially as you may be fined for having the wrong ticket onboard. Metro trains will have a large "M." The RER lines are Lines A, B, and C which go through the city and out towards the suburbs and airports. 
The t+ticket conveniently works for all metro lines, RER lines in Zone 1, Ile-de-France bus lines not including the Orlybus and Roissybus, tram lines and the Montmartre funicular. It is also possible to purchase a booklet of 10 tickets at a lower price or other travel cards like Paris Visite.   
Paris Visite
Paris Visite is a pass that allows unlimited travel throughout the Paris and suburb region via bus, metro, RER lines and tram lines with different day packages. 
All About the Parisian Taxis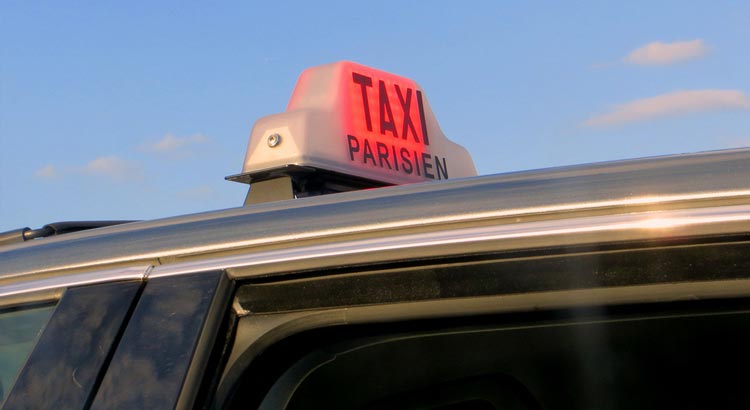 Taxis in Paris
How do Parisian taxis look? How do I get a taxi? With 17,000 taxis in Paris, it will be a sight hard to miss; however, it is always safe to be aware of what these taxis look like and how they function. Be sure to look out for a sign on top of the taxi that reads "Taxi Parisien" with a display meter both inside and behind the vehicle, along with a license plate number in front. Once you have spotted one, don't be shy to hail one on the street, at a taxi stand, or call a taxi firm such as Taxis G7, Alpha Taxis or Taxis Bleus. 
What are the fares? The standard fare that all taxis charge at pick-up is €2.60 and the fares will vary between Tariff A, B and C. Tariff A includes zones until the Boulevard Périphérique, charging €1.06 per kilometer from 10 AM till 5 PM. Tariff B includes the suburbs and all Paris zones outside the Boulevard Périphérique, alongside other surrounding areas that cover routes to the Paris Nord Villepinte Exhibition Center and the Charles De Gaulle and Roissy Airports. The tariff charges €1.30 per kilometer and applies from 5 PM till 10 AM regularly, from 7 AM till 12 AM on Sundays and 24 hours on public holidays. It also affects the suburbs only from 7 AM till 7 PM. Tariff C additionally includes the whole city from 12 AM to 7 AM on Sundays and the suburbs from 7 PM to 7 AM for €1.58 per kilometer.
Take note that once a taxi begins to wait for you, the hourly rate begins at €32.10 for Tariff A, €38.10 for Tariff B and €35.80 for Tariff C.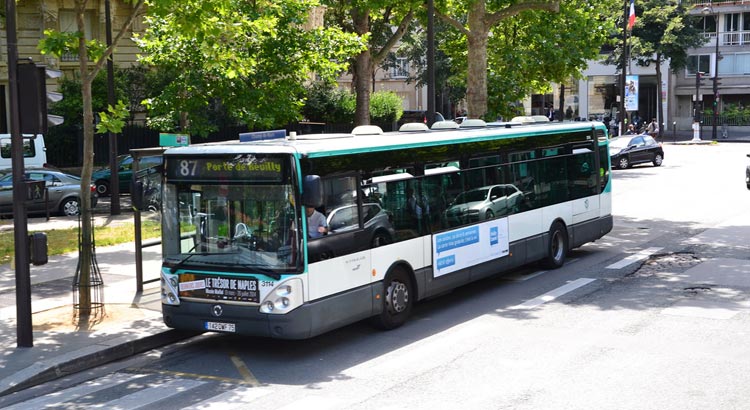 Buses in Paris
The 59 bus routes of Paris have improved through the designated bus lanes in busy streets. Five minutes is the approximated maximum waiting time until you reach your next stop. You will find the bus stops to be poles or glass-covered stops listed with bus numbers and individual itineraries. Once you are on your bus, do not forget to present your ticket to the driver and validate it in the machine on-board. Simply press the red button when you are near your stop and you should see the sign arrêt demandé appear at the front. Most buses operate from 7 AM till 8:30 PM on Monday to Saturday, with the exception of others operating from 8:30 PM ill 12:30 AM. Thankfully, half of the buses in Paris are running on Sundays and public holidays. If you happened to miss the last train, use the Noctilien night bus from 12:30 AM till 5:30 AM throughout 42 lines in Ile-de-France region.
And if you are in the mood to sit back for a bit, consider the Balabus, an exclusive sightseeing route bus that runs from April to September on Sundays and public holidays. It operates from 1:30 PM to 8:30 PM from the Gare de Lyon and from 12:30 PM to 8 PM from the Grand Arche at La Defénse. Since they conveniently come to regular bus stops, just spot a bus with the name Balabus and you're on your way.

 Purchase your bus ticket by buying it directly from the bus driver or at the metro station since the tickets are the same. Please note that one ticket is valid for only one single journey without connections.
Ride On With Parisian Bicycles
Bicycles in Paris
Hopping on a bicycle may sound more welcoming to those interested in a local façon de vie. Consider renting a Vélib bike (hint: it literally stands for bicycle freedom—vélo-liberté) and ride on the friendly bike routes throughout Paris. Vélib runs as a self-service bike rental system where you simply take a bike from one of the hundred stations across Paris and return it at any station. With a no-charge scheme for the first 30 minutes, it is a wonderful way to make that quick trip through unexplored streets to your favorite Parisien café or museum. The price for a one-day rental is a mere €1.70 and the weekly rental, €8.00.
For those without a long-term subscription, there is no booking process involved. Simply show up at a Vélib station, choose a bike and enter the bike number into the station's screen. Once the green light appears, you are free to take the bike. Purchasing the ticket online will speed up the process. Long-term subscribers only need to swipe their subscription card in the machine before taking their bike. There are also more traditional bike rental stores where you can have a bike for several hours or days.